Whether you call them cool, weird, or down-right wacky, there's no denying that out-there architecture and design always catches the eye. Here in Toronto, Canada, we've got no shortage of standout spaces, so we've rounded up five that really stand out.
1. The Cube House (Sumach St.)
Via blogto.com; Flickr/picturenarrative
A cross between a house and a billboard, this cube-shaped oddity sits in the high-trafficked zone between the Don Valley Parkway's on and off ramps.
2. Colour Block House (157 Coxwell Ave.)
Via Flickr/PLTam
This thin, three-storey tall structure stands out, thanks to its unconventional bold-coloured design (which bring the word LEGO to mind!). Resting on four steel posts, the home boasts a nice little hub for the owner's car, a rooftop patio and a special bridge that connects it to the street.
3. The Little House (128 Day Ave.)
Via wickedblog.com
Lean in closely for a look at the smallest house in Toronto. Complete with a kitchen, living room, bedroom (with, of course, a murphy bed) and a back patio, the super small space in Little Italy actually hits the housing market every now and then.
4. Casa Loma (1 Austin Terrace)
Via facebook.com
This famous castle (now a busy visitor's attraction) was home to Canadian financier Sir Henry Pellatt. Step foot on the gorgeous property with a self-guided audio tour to learn more about the secret passages, stables, towers, and 5-acre estate gardens.
5. Myers Residence (19 Berryman St.)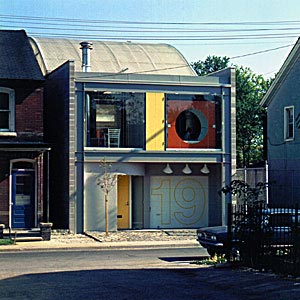 Via bartonmyers.com
This hip space was the work of Toronto architect, Barton Myers, for his own family. He completed the contemporary design in 1970 (which includes a translucent fiberglass roof, exposed steel, and a bridge running through the interior) despite the old narrow lot.
Want to see the coolest houses in your city? Sound off below or e-mail us at webmaster@hgtv.ca for a chance to have your hometown covered next!